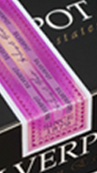 O
ur story began sometime in the 1870's, when India was the brightest jewel in the colonial crown.
There was excitement in the air. Debes Chandra Ghose's grandfather, Gopal Chandra Ghose, a lawyer in the prosperous town of Jalpaiguri, witnessed the landscape being transformed all around him. Every year vast tracts of land were being planted with tea. Simultaneously, train loads of workers were being transported from neighbouring states, to be employed in North East India's labour intensive tea plantations.
Gopal Chandra Ghose had the audacity to dream. He brought together a group of friends, and they jointly applied for permission to establish a tea estate. There was a small problem – Indians were not allowed to own a stake in the tea industry. Not one to be deterred by such trivial issues, he persevered, and eventually that permission was granted. The year was 1879. Gopal Chandra Ghose's dream started merging with reality, with the establishment of India's first native owned tea plantation.
As the decades unfolded, successive generations nurtured and strengthened the family's tea business, devoting their entire lives to this unique industry.