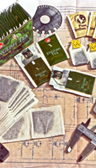 I
n an industrial area near the Kolkata dockyards, stands a testimony to our tea legacy. The serene surroundings of the tea factory are in sharp contrast to the activity inside, where the rhythmic pulse of machines at work sets the pace. At a distance, large walls of tea sacks are stacked neatly in rows, and tower above the facilities like silent spectators.
Production technicians maintain a keen vigil as the machines throb with their task. In this controlled environment quality is an inherent process, running seamlessly along, as a range of packaging requirements from around the world are unceasingly met.
Manufacturing both branded and private label products, there is a range of tea bag options:
♦ String & tag bags (with or without envelope) in weights of 1.5 to 2.5 gms.
♦ Pot / float bags (square, with 4 sides heat sealed) in weights of 1.8 to 3.5 gms.
Primary packaging options include tea bags and packet teas in poly bags, cartons, trays, chestlets or tins, with a variety of inner liners, and overwrapping. Shrink wrapping is available for multiple unit packs and shipping cases. Shipments may be palletised or unpalletised, with option of stretch wrapping.